Our Team...
Since 1978, the Vision Homes management team has helped thousands of customers build their dream home. It is our mission to help people & improve lives though homeownership. What sets us apart is our award-winning, nationally recognized management team. Vison Homes is extremely focused on finding the best way to provide the best value on the market without compromising quality. Also, our company's proactive warranty gives our homeowners peace of mind. Vision Homes' superior construction management system allows us to focus on what's important, our customers and their new home, and to providing the best value on the market.
Our Vision...
Our Vision is to help people & improve lives though homeownership.
Our Slogan...
"Within Your Means, Beyond Your Dreams"™ - Vision Homes
Our Name...
Many decades ago, one of the partners with Vision Homes was assigned a high school project requiring him to create a residential building design. That project ultimately won best in state by the Technology Students Association! On the title block of that drawing was the fictitious company name "La Vision" with the slogan "Your Dream is Our Vision."
For many years the award-winning management team of Vision Homes has focused on building affordable homes for thousands of buyers. But, year after year, we have seen substantial price increases which has caused the dream of homeownership to fade. That's why we decided to focus our expertise on giving people a chance to fulfill that dream. And with that focus came a major rebrand. Vision, by definition, means the act or power of seeing, something seen in a dream and the act or power of imagination. As the management team began to brainstorm, that old high school project came back up. It was in that statement "Your Dream is Our Vision" – "La Vision" that everything we were trying to do came full circle. Your Dream is Our Vision! We are dedicated to helping people and improving lives through homeownership.
Our Logo...
There are several meanings incorporated into our logo. At the center you will notice a "V" with a dot above it. This signifies an excited person whose dream just came true! That "V" also represents Vision Homes commitment to helping you achieve your dream. That symbol is placed inside the outline of a home to convey our focus of improving lives through homeownership. Along with the company's name, it is surrounds by a ribbon backdrop to exemplify the reward of helping a person reach their dream of homeownership.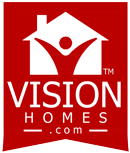 844-You-Can-Own